West Yellowstone's best winter activities - snowmobile, snowcoach to Yellowstone, learn about the operations of a dogsled kennel, and get up close and personal with bears and wolves at the the Grizzly Wolf and Discovery Center.
4 nights lodging, a full day of snowmobiling with clothing rental, a snowcoach tour to Old Faithful or the Grand Canyon of the Yellowstone, a 2 hour dogsled and kennel tour and a trip to the Grizzly Discovery Center will show you the best of West Yellowstone in the winter.
This package includes:
Standard Hotel Room in West Yellowstone, Montana
All the rooms have been recently upgraded to exceed AAA 3 Diamond standards.
Amenities include refrigerators, microwaves, 32" flat screen LCD TVs and free Wi-Fi.
Non Smoking
Hot Tub
Swimming Pool
Eco Friendly
Restaurant on Site
Free parking
Business Services
WiFi
---
The Canyon Snowcoach Tour
Tours operate daily from December 15 - March 6 form 9 AM - 5 PM. No tours on Christmas Day. The scenic splendor of the Grand Canyon of the Yellowstone, home of 309 foot Lower Falls , combined with a walk along Norris Geyser Basin, the hottest most acidic geyser basin in Yellowstone, make this tour a favorite among our guests. Highlights include Yellowstone Falls, Norris Geyser Basin, Natural Thermal Features and Yellowstone's wildlife.
Full Day
Guided
Young Children Allowed
Family Friendly
Photographic Opportunities
Wildlife Sighting Opportunities
National Park Permittee
---
Sled Dog Ride and Kennel Tours
Learn more about the sport and the amazing canine athletes involved in dog sledding. Start with a tour of the kennel where the guests meet and pet the dogs, learn about the equipment, nutrition, and dogsledding in general. This is a great time for Questions and Answers. After the kennel tour, you will go on a 1.5 mile dogsled ride where you are a passenger on the sled (sleds fit three adults or two adults and two children). You will be shown how to walk the dogs, handle and harness the dogs, and hook them up to the sled. The ride trail is set up so that anyone who is not riding can take photos/video of those who are. We take as many trips on the trail as necessary for everyone to take a ride. After the ride, you have the opportunity to learn how to drive a sled, which is pulled by a snowmobile. The tour takes between 2 - 3 hours, depending on how much you want to participate.
2 Hour
Guided
Local Flavor
Family Friendly
Photographic Opportunities
---
Grizzly and Wolf Discovery Center in West Yellowstone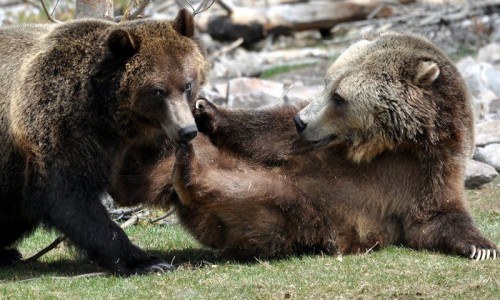 The Grizzly & Wolf Discovery Center offers every visitor to Yellowstone a chance to uniquely experience the world of grizzly bears and gray wolves.
All the animals at the Center are unable to survive in the wild and serve as ambassadors for their wild counterparts. The center is home to grizzly bears from as far away as Alaska and as close as Yellowstone National Park. Each bear and its story are unique but they all have something in common; they came to reside here after becoming nuisance bears or orphaned cubs of a nuisance bear. These bears learn to obtain food from people, damage property in search of food or become aggressive toward people and are usually killed. Instead of being destroyed, the eight bears that reside at the center were rescued. The center provides the bears with a large outdoor habitat that includes many natural features including grass, logs, trees, talus fields, mulch digging areas, a waterfall and deep pond. Each bear is also provided with a private indoor area.
Make sure to time your visit with the feeding hours, when keepers hide food within the habitat. Watch as the bears sniff out their food, dig it up and catch fish just like they did in the wild.
The center is also home to eleven wolves that live in three different packs. The wolves were born in captivity and are unable to live in the wild. The facilities where they were born did not have room to keep them and the GWDC was able to provide them a home. Here, the wolves give visitors an up-close look at their normally secretive lives. The wolves eat, play, reinforce their dominance hierarchy and howl right in front of the viewing areas.
1 Hour
Young Children Allowed
Cultural
Local Flavor
Family Friendly
Wildlife Sighting Opportunities
---
Guided Snowmobile Tour to Old Faithful
This tour takes in the thermal features of the Upper and Lower Geyser basins including walking around Fountain Paint Pots, and views of Midway Geyser Basin and Biscuit Basin. The highlight of the tour is witnessing the world famous Old Faithful erupt in the winter landscape. Plenty of time is allocated to the stop at Old Faithful allowing you time to eat lunch and visit the new visitors center. While focusing on the Geothermal and landscape features, wildlife are still in abundance with a good chance that you will come across Bison, Elk, Coyotes, Bald Eagles, and Trumpeter Swans.
Wildlife Sighting Opportunities
Photographic Opportunities
Full Day
Guided
Wildlife Sighting Opportunities
Photographic Opportunities
Full Day
Guided
---