Stay in a deluxe cabin, minutes from the west gate of Yellowstone, and enjoy some the best activities in the West Yellowstone Region, including horseback riding, whitewater rafting, a zipline tour, full day Yellowstone Park tour, and admission to the Grizzly and Wolf Discovery Center.
Spend 5 nights in a deluxe cabin and enjoy some of the best activities in the West Yellowstone region.
Head up to Big Sky for a day of whitewater rafting and ziplining along the Gallatin Rvier.
Another day will be spent in Yellowstone National Park. Let Yellowstone Alpen Guides do the driving, while you go on a guided tour of the park's highlights along the lower loop, including Old Faithful and the Grand Canyon of the Yellowstone River.
Dusk will be a great time to go on a 2-hour horseback ride back in West Yellowstone. And you'll have plenty of extra time to explore Yellowstone on your own, visit the Grizzly Discovery Center (a not for profit organization that allows you to see rescued bear, wolves and other animals up close), and stroll through downtown West Yellowstone's many shops and museums.
In the evenings, you will enjoy returning home every night to your luxury cabin, roasting marshmallows at the firepit right out your front door, and recounting your adventures.
This package includes:
Grizzly and Wolf Discovery Center in West Yellowstone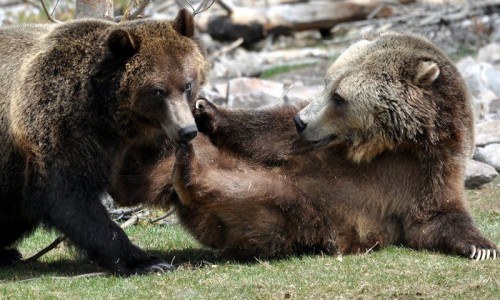 The Grizzly & Wolf Discovery Center offers every visitor to Yellowstone a chance to uniquely experience the world of grizzly bears and gray wolves.
All the animals at the Center are unable to survive in the wild and serve as ambassadors for their wild counterparts. The center is home to grizzly bears from as far away as Alaska and as close as Yellowstone National Park. Each bear and its story are unique but they all have something in common; they came to reside here after becoming nuisance bears or orphaned cubs of a nuisance bear. These bears learn to obtain food from people, damage property in search of food or become aggressive toward people and are usually killed. Instead of being destroyed, the eight bears that reside at the center were rescued. The center provides the bears with a large outdoor habitat that includes many natural features including grass, logs, trees, talus fields, mulch digging areas, a waterfall and deep pond. Each bear is also provided with a private indoor area.
Make sure to time your visit with the feeding hours, when keepers hide food within the habitat. Watch as the bears sniff out their food, dig it up and catch fish just like they did in the wild.
The center is also home to eleven wolves that live in three different packs. The wolves were born in captivity and are unable to live in the wild. The facilities where they were born did not have room to keep them and the GWDC was able to provide them a home. Here, the wolves give visitors an up-close look at their normally secretive lives. The wolves eat, play, reinforce their dominance hierarchy and howl right in front of the viewing areas.
1 Hour
Young Children Allowed
Cultural
Local Flavor
Family Friendly
Wildlife Sighting Opportunities
---
Explorer Cabins - The Montana Cabins in West Yellowstone
Montana Cabins have one large room with 2 queen sized beds and a kitchenette for light cooking - with cookware, dishes and utensils. Kitchenettes include a sink, 2 burner ceramic glass cooktop, coffee maker, small refrigerator, microwave, toaster, tea kettle and dishwasher.
There is a sitting area outside the cabin, and access to a fire pit - perfect for roasting marshmallows. Rooms include complimentary WiFi, flat screen TV, and alarm clock/MP3 player.
Guests at the Yellowstone Explorer Cabins may use the pool and hot tub at the sister hotel where you check in and register.
WiFi
Hot Tub
Pet Friendly
Swimming Pool
Free parking
Fitness Facilities
WiFi
Hot Tub
Pet Friendly
Swimming Pool
Free parking
Fitness Facilities
---
2 Hour Evening Horseback Ride in West Yellowstone, Montana
An evening horseback ride is very relaxing and offers your best chance at spotting wildlife. Shady trails offer a peaceful and serene setting and the air is so pure and sweet.
You will return back at the ranch at approximately 7:30pm, just in time to go to the Rodeo down the road which starts at 8pm.
2 Hour
Guided
Equipment Included
Mountains
Photographic Opportunities
---
Classic Zipline Tour in Big Sky, Montana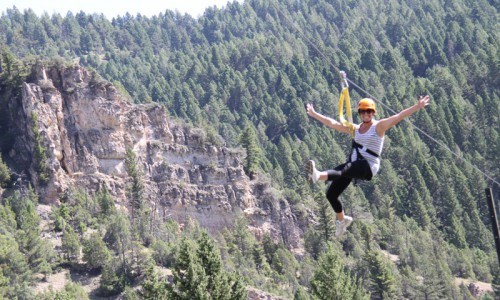 Ziplining is a fun, exciting and eco-friendly way to experience the scenic beauty of the Greater Yellowstone Area in Montana.
A fully guided zipline tour with 3 full zips and 3 sky bridges. Two of our zips cross the beautiful Gallatin River!
2 Hour
Guided
Equipment Included
River
Local Flavor
Exciting
Family Friendly
Photographic Opportunities
---
Gallatin River Whitewater Rafting (Half Day) in Big Sky, Montana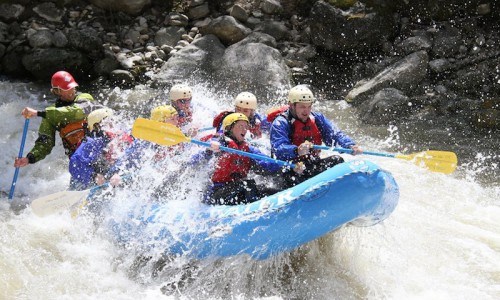 The classic half-day trip runs through the heart of the whitest water in the Yellowstone Area! You will begin with some small rapids which progress in size until we drop into the lower canyon where we will run BIG rapids including House Rock and the continuous Mad Mile.
The total time required for the trip is about 3 hours, including shuttling. Montana Whitewater's office is located just minutes from the end of the trip - so you can get right back to change into dry clothes and get comfortable. These boats seat up to 6 rafters.
1/2 Day
Guided
Equipment Included
River
Exciting
Family Friendly
---
Yellowstone Lower Loop Tour
This tour offers all of Yellowstone's highlights in a nutshell. Famous for it's waterfalls, wildlife, and geysers, this tour was created to give you a taste of it all. Start the day heading to geyser country with an experienced guide, stopping for wildlife, photography and a few guided walks before arriving at the tried and true Old Faithful. You'll have the opportunity to explore the Old Faithful area and have lunch before heading over the Continental Divide and on to Yellowstone Lake. From there, tour through the wildlife habitats of Hayden Valley as we approach the Grand Canyon of the Yellowstone. Explore the beautiful Upper and Lower Falls before a relaxing drive back to West Yellowstone.
Full Day
Guided
Young Children Allowed
Family Friendly
Photographic Opportunities
Wildlife Sighting Opportunities
National Park Permittee
---