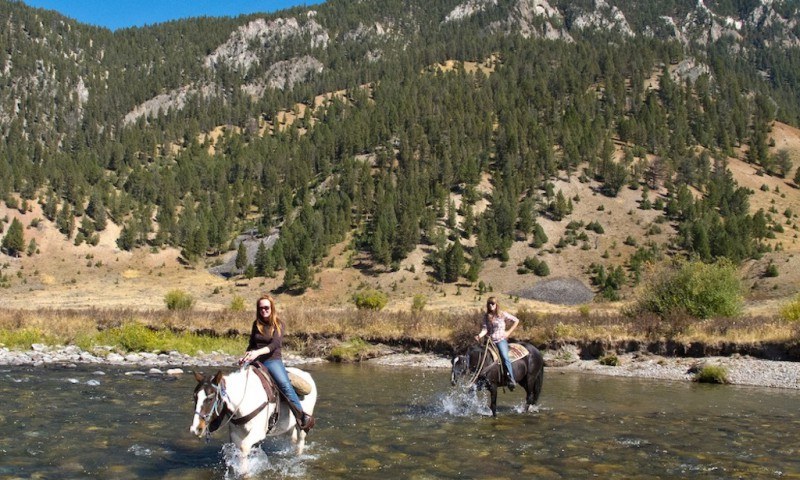 One of our most popular packages includes 4 nights in Jackson Hole and 3 nights in Big Sky. Activities are endless: ziplining, whitewater rafting, horseback riding, guided hiking, a wildlife tour, and a scenic float trip.
This is one of our most popular packages because it includes a little bit of everything in a doable week long vacation.
In Jackson Hole, spend 4 nights in a convenient deluxe hotel room. Spend your days on a scenic float under the shadow of the Tetons, on a guided hike in high alpine terrain, and on a guided sunset or sunrise wildlife tour in Grand Teton National Park. In your downtime, there is plenty to do and see in downtown Jackson, Wyoming.
On your way to Big Sky, Montana, drive through Grand Teton and Yellowstone National Parks. You'll have a little bit of time to see some of the top attractions like Old Faithful! Spend 3 nights in Big Sky in a nicely appointed hotel room in the heart of Big Sky's Mountain Village. During the day, you'll have plans to go horseback riding, whitewater rafting on the Gallatin River, and on a zipline tour. This quiet mountain town is split up into different areas (Valley, Town Center, and Resort), all offering unique attractions and shops.
This package is easy to customize! Ask us about our low rates on one way car rentals and airfare into one airport and out the other!
"I had never used a travel agency before and I was beyond impressed! This trip could not have gone more smoothly. I have already recommended your agency to my friends looking to plan their next vacation and I certainly hope to use you again in the future as well." ~ Anna & Brandon
"What a fabulous trip you planned for us! The accommodations were amazing!" ~ Audrey and Lou
"We really enjoyed everything and will definitely recommend you to anyone planning a trip to Montana & Wyoming. Not sure how we can top the vacation next year since this trip set a pretty high bar!" ~ Andy
This package includes:
Deluxe Hotel Room in Jackson, Wyoming
This deluxe hotel room features a King bed with sitting area, a wood inlaid gas fireplace, a sleeper sofa and a dining table with chairs. The kitchenette has granite counter tops, a mini fridge, microwave, two burner stove, sink, and all the pots, pans, silverware and plates needed to have a small meal in your room.
Hotel amenities include a heated outdoor pool, hot tub, and complimentary wireless internet.
Fitness Facilities
Spa Services
Non Smoking
Hot Tub
Swimming Pool
Restaurant on Site
Free parking
Ski In - Ski Out
WiFi
---
Classic Zipline Tour in Big Sky, Montana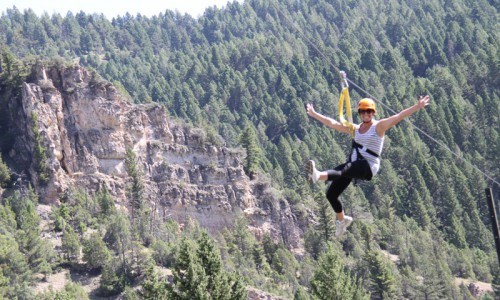 Ziplining is a fun, exciting and eco-friendly way to experience the scenic beauty of the Greater Yellowstone Area in Montana.
A fully guided zipline tour with 3 full zips and 3 sky bridges. Two of our zips cross the beautiful Gallatin River!
2 Hour
Guided
Equipment Included
River
Local Flavor
Exciting
Family Friendly
Photographic Opportunities
---
Gallatin River Whitewater Rafting (Half Day) in Big Sky, Montana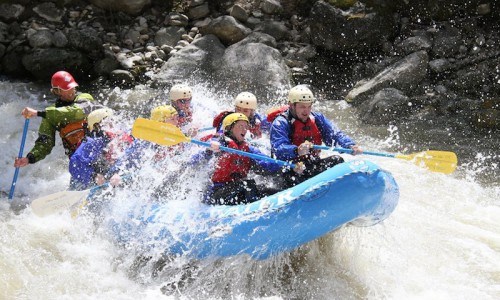 The classic half-day trip runs through the heart of the whitest water in the Yellowstone Area! You will begin with some small rapids which progress in size until we drop into the lower canyon where we will run BIG rapids including House Rock and the continuous Mad Mile.
The total time required for the trip is about 3 hours, including shuttling. Montana Whitewater's office is located just minutes from the end of the trip - so you can get right back to change into dry clothes and get comfortable. These boats seat up to 6 rafters.
1/2 Day
Guided
Equipment Included
River
Exciting
Family Friendly
---
2 Hour Horseback Ride in Big Sky, Montana
A two hour horseback ride brings you into the foothills of the Gallatin range of the Rocky Mountains. This ride gives you a wonderful view of the Gallatin Canyon and surrounding peaks. Your guide will stop twice for a family portrait or scenic photo. On this ride, you will experience the river, meadows, sage covered hills, forests, and mountains.
2 Hour
Guided
Equipment Included
Mountains
Photographic Opportunities
---
Grand Teton National Park Scenic Float Trip
This scenic float trip along the Snake River is located entirely within Grand Teton National Park! As a small river company, Solitude Float Trips takes pride in their unhurried manner and ability to provide personal attention to every guest.
Your guide will share tons of information about the park, wildlife, history, and geology. Make sure to ask questions too! Including round-trip transportation from Jackson, the trip takes about 3-4 hours.
Guided
Young Children Allowed
Equipment Included
River
Family Friendly
Wildlife Sighting Opportunities
National Park Permittee
---
Explorer Hike in Jackson, Wyoming (4 Hours)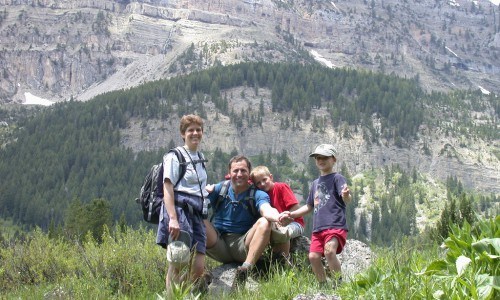 A four hour hike with a naturalist guide who will educate you on the local flora and fauna, geology and history of the Greater Yellowstone Ecosystem. Hikes can range from easy to moderate and are perfect for families (children's activities and butterfly nets are included), and can be customized for all ages and abilities.
Bottled water, snacks, transportation, and the use of fanny packs and binoculars are included.
1/2 Day
Guided
Mountains
Customizable
Family Friendly
Photographic Opportunities
Wildlife Sighting Opportunities
---
Sunrise or Sunset Grand Teton Wildlife Tour
Discover Jackson Hole and Grand Teton National park during the best wildlife viewing hours of the day. Photograph that moose or the Tetons in superb light during dawn or dusk. On these four hour tours we will explore the animal hotspots that our professional guides know so well. We will put our comfortable four wheel drive vehicles to the test looking for wildlife on the un-marked dirt and paved roads through the area. Plan on uninterrupted observation followed by a wealth of information provided by our knowledgeable guides that have a passion for what they do here in Jackson Hole.
Non strenuous hikes are included, if desired, to educate you about the smaller wonders of this special place and to open your senses to this glaciated landscape. Animals abound here are observed during many of our guided eco-tours in Jackson Hole and Grand Teton National Park. We'll try to spot moose, elk, bison, pronghorn antelope, mule deer, wolves, black bears, grizzly bears, bald eagles, and trumpeter swans. Topics of conversation on our eco-tours include animal behavior, animal adaptations, geology of the area, and cultural history of this special place.
1/2 Day
Guided
Young Children Allowed
Transportation Provided
Customizable
Eco Friendly
Family Friendly
Photographic Opportunities
Wildlife Sighting Opportunities
National Park Permittee
---
First Class Lodge Room in Big Sky, Montana
Located in the heart of Big Sky's Mountain Village, this historic hotel is just steps from the base of Big Sky Resort. The Huntley Lodge features a concierge, restaurant, shops, and the Solace Spa. A pool is also nearby.
Each room comes equipped with two queen size Boyne Beds and many convenient amenities. Note that rooms do not have air conditioners.
WiFi
Business Services
Non Smoking
Room Service
Spa Services
Hot Tub
Swimming Pool
Fitness Facilities
Free parking
Restaurant on Site
Free Breakfast
---