Enjoy the cool nights and warm days and explore Jackson Hole, as well as Yellowstone and Grand Teton National Parks without all the crowds via guided wildlife tour, a guided hiking tour, and mountain biking.
Check in to an all-equipped 1 bedroom condo in The Aspens, located along the Teton Village Road. You'll have 3 full days to explore the area in the pleasant fall air.
On day 1 head into Yellowstone for a guided tour of the Lower Loop, where you'll see Old Faithful, Yellowstone Lake, and the Grand Canyon of the Yellowstone.
After a long day in the park, take the next day to enjoy a guided mountain bike ride on either as scenic path or a singletrack dirt trail. You'll have the rest of the day to explore Jackson's town square and do a little shopping or go on a hike of your own.
On your last day, head into the mountains surrounding Jackson Hole for a half day guided hiking trip.
This if fully customizable. Add a horseback ride or a chuckwagon dinner if you want.
This package includes:
1 Bedroom Aspens Condo
Comfortable 1 bedroom/1 bath condos that can sleep up to 6 people. These condos have a full kitchen and a washer/dryer, making it ideal for longer stays.
Non Smoking
Free parking
Skier's Shuttle
WiFi
---
1/2 Day Bike Tour (Scenic Path or Mountain Bike)
Biking is a great way to spend the morning or afternoon. Enjoy unforgettable scenery and the opportunity to see wildlife, all while breathing in the fresh mountain air.
We offer a couple options for half day bike tours. We can enjoy a scenic cruise along a paved pathway (great for families) or discover the area's epic single track (for intermediate riders).
Kids 8 and older can ride their own bike and we offer pull-behind child trailers so that even your younger children can participate!
1/2 Day
Guided
Young Children Allowed
Equipment Included
Mountains
Customizable
Family Friendly
Photographic Opportunities
Wildlife Sighting Opportunities
---
Explorer Hike in Jackson, Wyoming (4 Hours)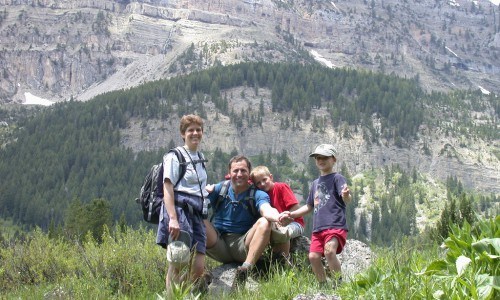 A four hour hike with a naturalist guide who will educate you on the local flora and fauna, geology and history of the Greater Yellowstone Ecosystem. Hikes can range from easy to moderate and are perfect for families (children's activities and butterfly nets are included), and can be customized for all ages and abilities.
Bottled water, snacks, transportation, and the use of fanny packs and binoculars are included.
1/2 Day
Guided
Mountains
Customizable
Family Friendly
Photographic Opportunities
Wildlife Sighting Opportunities
---
Tour of Yellowstone National Park's Lower Loop
This full day tour will give you the opportunity to cover all that can be seen in one day in Yellowstone. You will cover a lot of miles, hitting up the major points of interest, like Old Faithful and the Grand Canyon of Yellowstone. This is a great trip if you want to view wildlife, geothermic wonders and vast forests all at once. Other points of interest may include Moose Falls, West Thumb geyser basin, and Fountain Paint Pots. Keep your eyes out for wildlife, especially through Hayden Valley.
Tour time: 11-12 hours.
Full Day
Guided
Young Children Allowed
Mountains
Transportation Provided
Family Friendly
Photographic Opportunities
Wildlife Sighting Opportunities
National Park Permittee
Meal Included
---