Spend 4 nights in Jackson Hole, enjoying a half day guided hike and a scenic float trip in Grand Teton Park. Spend 1 night in Cooke City for a 2-day wildlife tour, featuring wolves and bears, in Yellowstone National Park.
We've partnered with Brushbuck Tours to provide one overnight wildlife tour that will feature wolf and bear spotting in the northeastern sections of Yellowstone National Park. You'll spend the night in Cooke City for easy early morning access to the park, the best time to spot wildlife.
Spend the remaining 4 nights right in Jackson Hole, where you'll enjoy a half day guided hike and a scenic float trip through Grand Teton National Park. There will still be plenty of time to explore the area on your own and if you want to add any additional activities (like horseback riding), this package is easy to customize.
This package includes:
Hotel Room
Rooms have either a king sized bed or 2 queens, premium bath products, iPod dock, wifi and premium cable. Hotel amenities include an outdoor heated pool and hot tub, fitness facilities, on site restaurant, and complimentary airport transfers and skier's shuttle.
Spa Services
Free Airport Shuttle
Non Smoking
Hot Tub
Swimming Pool
Room Service
Restaurant on Site
Free parking
Skier's Shuttle
WiFi
---
Brushbuck Guide Service - 2 Day and 1 Night Grand Teton and Yellowstone Tour
On the morning of your first day, Brushbuck Tours will pick you up at your hotel. Early morning is the best time for wildlife sightings - and you could see moose, elk, bison, grizzly bear, black bear, wolves, coyote, eagles and more! From Grand Teton National Park, you will head to Yellowstone and view the Upper and Lower Falls and Lamar Valley (also knows as the American Serengeti) for more wildlife viewing opportunities. Your lodging in Cooke City that night is included in the price of the tour, and you will enjoy the western charm of this small town. On the second day, your primary focus will be on wildlife, specifically wolves and grizzlies. You will also have a chance to see Mammoth Hot Spring and Old Faithful. The day ends back in Jackson Hole, with memories and photos you will cherish.
Tour includes hotel pick up and drop off, 1 night accommodation, National Park Entrance fee, snacks and refreshments and use of binoculars and spotting scopes.
Mountains
Overnight
Photographic Opportunities
National Park Permittee
Meal Included
Transportation Provided
Wildlife Sighting Opportunities
---
Grand Teton National Park Scenic Float Trip
This scenic float trip along the Snake River is located entirely within Grand Teton National Park! As a small river company, Solitude Float Trips takes pride in their unhurried manner and ability to provide personal attention to every guest.
Your guide will share tons of information about the park, wildlife, history, and geology. Make sure to ask questions too! Including round-trip transportation from Jackson, the trip takes about 3-4 hours.
Guided
Young Children Allowed
Equipment Included
River
Family Friendly
Wildlife Sighting Opportunities
National Park Permittee
---
Explorer Hike in Jackson, Wyoming (4 Hours)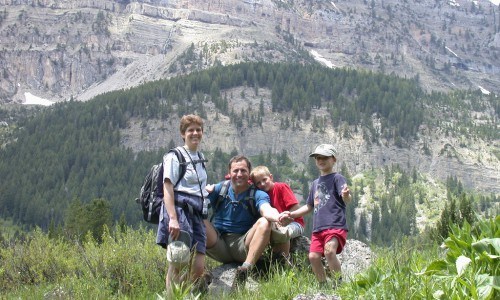 A four hour hike with a naturalist guide who will educate you on the local flora and fauna, geology and history of the Greater Yellowstone Ecosystem. Hikes can range from easy to moderate and are perfect for families (children's activities and butterfly nets are included), and can be customized for all ages and abilities.
Bottled water, snacks, transportation, and the use of fanny packs and binoculars are included.
1/2 Day
Guided
Mountains
Customizable
Family Friendly
Photographic Opportunities
Wildlife Sighting Opportunities
---